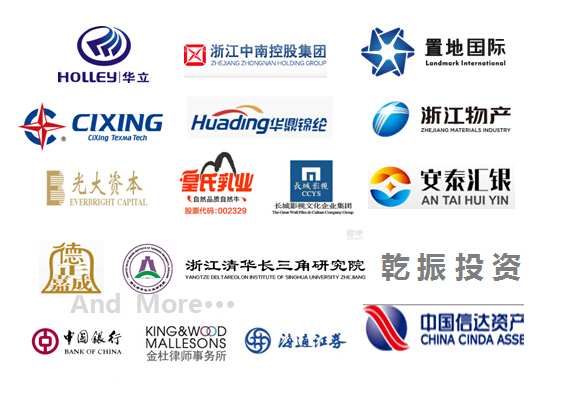 Accuracy and Excellence
Accuracy: invest in over 60 enterprises in two years; achieve mutual promotions and benefits
between industries
Excellence: several projects are valued for more than 1 billion and maintain high growth rates
Innovation and Experience
Innovation: Based on Feng Yun Zhe Shang, Tunlan Capital sets up the model for old and new
Zhe Shang Cooperations; Tunlan successfully operates several angle funds,
including ZhongnanTunlan, HualiTunlan, ZhidiTunlan, HuadingTunlan, etc; Tunlan
capital has started 10 billions regional industry revitalization funds centered at
Zhejiang Province, affecting 50 cities and counties throughout the country, using
high-quality domestic resources and revitalizing regional economic development.
Experience: Unique investment ideas and vision; acute judgment about enterprise growth and
IPO probability; cautious investment style and the ability of determination
Resources and Team
Resources: powerful backgrounds of Zhe Shang shareholders prove that company has
preeminent capital strength, ample project resources, strong project
competitiveness and multichannel exits.
Team: pluralistic and complementary structures and backgrounds of human resources enable
broad horizons and unique judgment standard
Service and Cooperation
Service: stress benign interactions between industries, capital, policies and technology; provide
enterprises with technology incubation, achievement transformation, strategic
planning, policy support and talent supply; enhance the breadth and depth of
company's value-added services.
Cooperation: Company maintains friendly relationships with many domestic and international
well-known investment institutions, listed companies, fund companies, banks and
universities. In the meantime, company cooperates with well-known law firms,
brokerages and accounting firms to provide professional one-stop services for
invested enterprises.